This is the second post in the Flashback SRK series by Filmy Flashback.
"Anjali," I shouted for a brief moment, and then felt my voice dry up in my throat.
Everyone turned to look at me, including my 8-year old child, but I had eyes only for Anjali.
The Anjali that my 8-year old was named after. My friend, no my best friend.
This scene always gives me chills. Kuch Kuch Hota Hai is a movie that touches your heart every time you watch it, and there is no way you can go without watching it every couple of months. Here are a few of the dialogues that have become conversation enhancers in our life-:
1. Oo number one hai ji one! 
Source: media.giphy.com
The 'Maa' scene where Rahul proves himself to be the best dad ever results in this extremely enthusiastic line by another father in the audience.
2. I don't like jokes… I don't like you!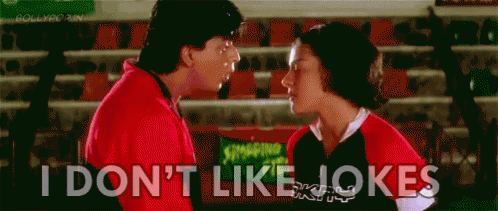 Source: media.tenor.co
*Rahul aur Anjali ka jhagda* You know the exact tone in which every dialogue in this scene is delivered, and this is your comeback to quite a few insults thrown your way up to this day!
3. Hi sexy!
Source: http://25.media.tumblr.com
This little one has a character that few have been able to forget over the years. We love the way she takes things into her own tiny hands and embarrasses her Dadi in front of her 'Geeta gang.'
4. Pyaar dosti hai.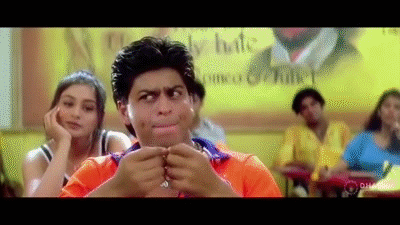 Source: http://1.bp.blogspot.com
What an absolutely delightful thought! This is the turning point in the friendzoned friendship of Rahul and Anjali, and a scene that would have been incomplete without the charming Ms. Briganza.
5. Ek mard ka sir sirf teen auraton ke samne jhukta hai.
Source: www.bollywoodbubble.com
Real smooth, Rahul! He may be a complete goof, but he does know how to woo a girl. The boys today could learn a thing or two from him.
6. Mera pehla pyaar adhoora reh gaya Rifatbi.
Source: makeagif.com
You can hear the sound of hearts breaking everywhere when Anjali comes drenched to her hostel. It's impossible to keep the tears from running down our cheeks.
7. Welcome to your favourite show, the Neelam show!
Source: http://www.thatscoop.com
She's cool, she's young, she's the MTV generation. As kids, we all worshiped her just as much as little Anjali did.
8. Aur pehla pyaar kya hota hai, yeh koi mujhse pooche.
Source: makeagif.com
Aman, the non villain of the movie, aces his role and makes us all fall in love with his sensitivity. After all, he's handsome enough to get any girl he wants!
9. Hum ek baar jeete hain, ek baar marte hain…
Source: indiatimes.com
How we wish that a guy would say this to us!
10. Rahul is a cheater!
Source: http://cin.h-cdn.co
This scene is proof of how some things never change, and thank God for that!
11. Tussi jaa rahe ho, tussi na jao.
Source: makeagif.com
This dialogue is probably the most favourite one among all the KKHH fans over the globe. The little sardar opens his mouth to speak once throughout the movie, and he nails it!
12. Kuch Kuch Hota Hai Anjali, tum nahi samjhogi.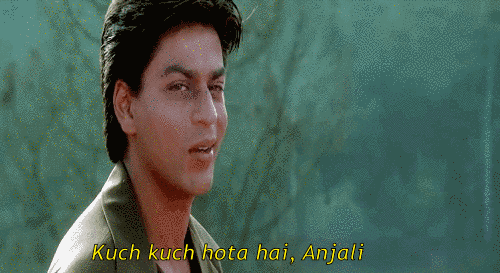 media.giphy.com
This is the most heart warming dialogue from the movie. The love story of Rahul and Anjali is one that has been etched in our hearts forever, and we hope that our love stories can be 2% of what theirs was!
My rating – 5/5